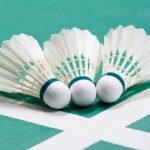 It was a disappointing day for Ireland at the European Team Badminton Championship losing to England.
Sam and Joshua Magee and Rachael Darragh from Raphoe were all in action but lost in their respective games.
Chloe Magee was injured and missed today's action but should be fit if Ireland make the quarter finals.
Home nation Belgium could deprive Ireland of a place in the last eight if they beat England tonight.
The draw for tomorrow's quarter-finals will take place after the match is over.