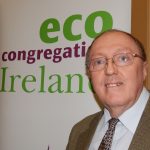 One of Ireland's foremost experts on climate change is addressing a meeting in Letterkenny's Regional Cultural Centre tomorrow evening.
Professor John Sweeney is founder of the Irish Climate Analysis Research Unit in NUI Maynooth, and has collaborated in a number of international initiatives, one of which won a Nobel Prize in 2007.
He'll be speaking on the theme "The Clock is Ticking", and speaking to Greg Hughes on today's Shaun Doherty Show, he said those who claim there is no basis for concern are ignoring the evidence.....................