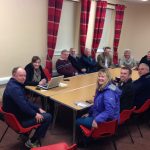 Plans to establish a Text Alert system in Convoy are at an advanced stage, with the committee predicting that the initiative will be ready for launch in a matter of weeks.
A community alert scheme has been in place, but a local committee got together to progress to a text a;ert scheme on the advice of gardai.
There are forms available at Convoy Post Office for people interested in joining up, with committee member John Kilpatrick saying there is already considerable interest locally..........