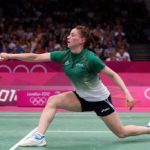 It was a mixed day for Ireland and the Magee family at the European Team Badminton Championships in Belgium.
The day got off to a winning start against the hosts as double Olympians Chloe Magee and Scott Evans won the Mixed doubles.
In the singles Chloe and Scott took  victory again as Ireland raced out to a 3-0 lead.
Chloe won her singles match 21-12 21-17.
In the two doubles matches Ireland lost both with Sam Magee and Scott losing in three sets while Rachael Darragh and Sara Boyle went down in two sets.
The 3-2 win against Belgium has secured at least a medal play off match for Ireland.
On Thursday Ireland take on England.