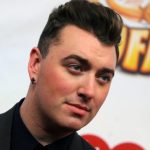 The answer is hungover!
The young British singer bagged four awards at the Grammys on Sunday night and celebrated at a VIP after party hosted by Hangar 1 Vodka and Dobel Tequila, held at a private estate in Bel Air.
The guest list was packed with stars including Katy Perry, Rita Ora, Ed Sheeran, Haim, The Weeknd, Skrillex, Darren Criss and Diplo.
And Taylor Swift was also at the party, sparking rumours as she cosied up with Take Me To Church singer Hozier.
Sources said the pair hung out all night talking, and one partygoer told E! they saw Taylor, 25, plant a few kisses on 24-year-old Hozier's cheek. And they couldn't bear to tear themselves away from one another – not leaving the party until 3am.