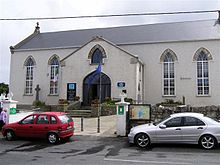 One hundred and eighty two charges of illegal fishing against 44 men and one woman were called at Dungloe District Court today.
Judge Paul Kelly was told nine of the charges against three men were new. He adjourned them for mention to March 10th.
The judge was also told that many of the other one hundred and seventy three charges against 44 defendants had been before the courts, ranging from the District to the Supreme, over the past six years.
It was hoped three Supreme Court judges would deliver a decision within a month.
Judge Kelly adjourned the charges to May 12th.
All cases involve allegations by Inland Fisheries of illegal fishing on the Gweebarra system in the Doochary area. Some of the summonses date back to 2008.