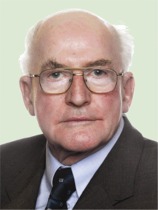 Tributes have been paid to former Donegal County Councillor Denis McGonagle who died this morning.
Today's meeting of the council was adjourned for a time as a mark of respect to the former Fianna Fail representative for Inishowen.
He was described as a gentleman and a true and loyal servant to the Fianna Fail party.
Fianna Fail Cllr Martin McDermott has paid tribute to former Cllr Denis McGonagle: