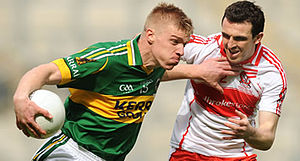 Tommy Walsh will start for Kerry for the first time since 2009 when they take on Derry on Sunday.
The former Sydney Swan came off the bench last week against Mayo but starts at midfield in Celtic Park.
Derry Manager Brian Mc Iver has made two changes to the side whic lost to Donegal last week.
Terence O'Brien and Ciarán McFaul replace Emmet Mc Guckin and Barry Mc Goldrick in the Derry attack.
The starting Derry team to face Kerry.
1. Thomas Mallon / T Ó Maoileoin (An Lúb)
2. Oisín Duffy / O Ó Dubhthaigh (Forghleann)
3. Niall Holly / N Holly / (Eoghan Rua)
4. John O'Kane / S Ó Catháin (Gleann an Iolair)
5. Kevin Johnston / C Johnston (Dún Geimhin)
6. Gerard O'Kane / G Ó Catháin (Gleann an Iolair)
7. Sean Leo McGoldrick / S L Mac Ualghairg (Eoghan Rua)
8. Mark Lynch (C) / M Ó Loingsigh (Beannchar)
9. Conor McAtamney / C Mac an Tiompanaigh (Suaitreach)
10. Ciarán McFaul / C MacPhail (Gleann)
11. Benny Heron / B O'hEarain (Baile na Scrine)
12. Enda Lynn / E Loinn (Grainloch)
13. Mark Craig / M de Creag (Dún Geimhin)
14. Terence O'Brien / T Ó Briain (An Lúb)
15. Daniel Heavron / D Heavron (Machaire Fíolta)