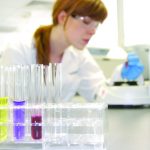 Donegal scientists are developing a new €25 blood test for bowel cancer, which could save thousands of lives by spotting the disease at the earliest possible opportunity.
The simple check will pick up on antibodies in the blood, produced as the body reacts to the onset of bowel cancer.
The collaboration between researchers from the Biomedical Diagnostics Institute at Dublin City University and Randox, promises that the new test will be a significant breakthrough in the diagnosis of bowel cancer.
Dr Peter FitzGerald, MD at Randox Labs says this will ensure cancer is detected much earlier: