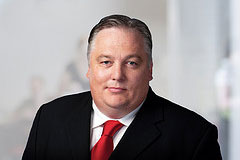 Independent Cllr Frank Mc Brearty has been in the public eye for a long number of years. In particular in the last 7 years on Donegal County Council.
Cllr Mc Brearty was Mayor of Donegal in 2012 when the Donegal Senior GAA team won the all-Ireland. Cllr Mc Brearty is currently in his second term as Chairman of Stranorlar Municipal District. He is a Member of the Corporate Policy Group and Chairman of the Housing and Housing Construction SPC and Member of the Northern and Western Regional Assembly. He is well known for his involvement in a number of high-profile legal battles in particular the Morris Tribunal and for fighting and exposing corruption in all areas. Notably, one in which he successfully had a civil case settled against the state.
In 2012 Cllr Mc Brearty won a landmark judgement against first trust / AIB UK Bank in the High Court in Belfast.
Cllr Mc Brearty who is well known locally and throughout Ireland for his stance against corruption at all levels and also the fact that he has already championed many local issues successfully claims he is a candidate the people can trust. From securing funding for local areas to standing up to corruption within the Donegal County Council and everything in between, Mc Brearty feels it's time that the people of Donegal elected a strong and trusted independent voice.
Cllr Frank Mc Brearty Standing Up for Donegal