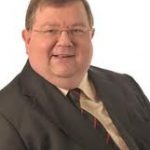 Another candidate has entered the race to become the next MP for West Tyrone, with the Ulster Unionist party unanimously endorsing MLA Ross Hussey to challenge the Sinn Fein incumbent Pat Doherty.
Mr Hussey told Highland radio News he will contest the election on his record, and would not speculate on whether his party will seek a deal with the DUP to give him a clear run as an agreed unionist candidate.
While Mr Hussey says a central part of his campaign will be highlighting the fact that Pat Doherty refuses to take his seat.
Last week, Mr Doherty said that will not change, and stressed that he can do everything necessary from his Westminister office which he regularly visits.
However, Ross Hussey says that's not enough...............