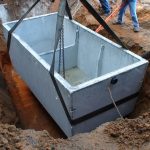 Over a third of all septic tanks in Donegal have failed local authority inspections.
That's according to new figures from the EPA which show that of the 81 tanks inspected in the county, 34% failed and 66% passed.
Nationally, 48 per cent of the 987 septic tanks inspected failed to pass the test.
The EPA says the failure rate could be reduced if householders take simple steps to maintain their treatment system.
Inspector with the Environmental Protection Agency, Eimear Cooney, has this advice for people: