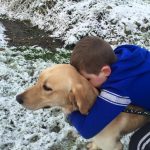 A Labrador dog belonging to the family of an 8 year old autistic boy in  Tyrone has been recovered.
TJ Early has difficulty communicating with people, and Bane has been described by his mother as his best friend.
The dog went missing on Friday morning, but this morning, 72 hours later, he has been recovered following a high profile media campaign.
A short time ago, pictures of TJ reunited with Bane were published on the Facebook page set up by the family.
http://www.facebook.com/helpfindbane