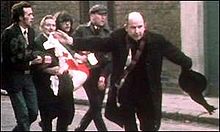 Several thousand people turned out for the 43rd commemoration of Bloody Sunday today.
Despite the weather, crowds took to the street with a new route added to the original march on to the Guildhall.
Most of the families of the 14 people who were killed on January 30, 1972 did not take part in today's march.
Freelance Journalist Eamonn Mc Dermott was at the parade today and says organisers should be happy with today's events: