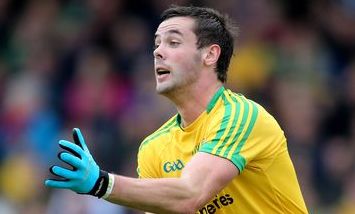 Donegal kick started their Division 1 league campiagn with victory over neighbours Derry on Saturday night thanks to a strong second half performance in Ballybfoey.
Derry deservedly led 0-9 to 0-6 at half time with Mark Lynch running the show at midfield and helping himself to five points in the opening half.
Donegal came out after the break a different side and where quickly level but it was Ordhan MacNiallais' goal which put them in front and they never looked back after that.
It could have been more had Michael Murphy not hit the crossbar from the penalty spot before that.
Murphy, Patrick Mc Brearty, Christy Toye, Martin Mc Elhinney and Martin O'Reilly also contributed during the game as Rory Gallagher's side outscored the Oak Leaf county 1-9 to 0-3 in the latter half to win 1-15 to 0-12.
After the game Oisin Kelly got the thoughts of the Donegal Manager Rory Gallagher…