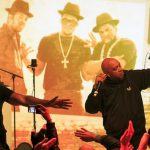 Hip-hop heavyweights Run-DMC paid tribute to their late band-mate Jason Mizell as they played their first UK gig together in over 12 years.
DJ Mizell, 37, known as Jam Master Jay, was murdered in Queens, New York, in October 2002. His killer has never been caught.
The duo – Darryl "DMC" McDaniels and Joseph "Rev Run" Simmons – led the 300-strong crowd to make peace signs while saying "JMJ, RIP".
"Several years ago my DJ was killed by violence," said Simmons. "We need to stop the violence in hip-hop. This is for Jam Master Jay, our former soldier."
A scratch tribute to the turntablist was also played.
Simmons and McDaniels performed hits including It's Tricky, It's Like That, Mary Mary, King Of Rock and My Adidas at London's Scala to commemorate Vodafone's 30-year anniversary of the first UK mobile call. The one-off gig, attended by mostly competition winners, was streamed live over Vodafone's 4G network on YouTube.
The group are also celebrating more than 30 years in the music industry, with their self-titled debut album released in 1984.
The pair were joined by Game Of Thrones actor Raleigh Ritchie – whose real name is Jacob Anderson – for a rendition of Walk This Way.
"30 years of Vodafone and 30 years of Run-DMC makes this show a match made in heaven," Simmons said on stage.
The rappers earlier revealed they still battle nerves before a gig, despite having performed for huge audiences over three decades.
McDaniels, 50, revealed: "I only get nerves right before I go on stage. Right before I go on stage, I get that little realisation of 'Oh shoot, I gotta go out there!' I never wanted to go out there… I used to do those rhymes in my basement.
"I'm 50 years old now, I started writing rhymes when I was 12, and I still get that feeling."