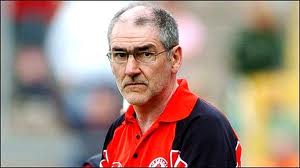 Mickey Harte has made eight changes to the Tyrone team for Sunday's Dr Mc Kenna Cup game against St Mary's.
After making their debuts as subs last Sunday, Rory Brennan, Dwayne Quinn and Cathal McShane will make their first starts for Tyrone at Healy Park in Omagh.
Brennan and Quinn are named in the half back line while McShane is drafted in at midfield.
In goals Michael O'Neill comes in for Niall Morgan, and Mark Donnelly, Plunkett Kane, Patrick Quinn and Connor McAliskey  are selected in the forward lines.
Tiernan McCann, Ryan McKenna, Cathal McShane, Emmett McKenna, Kyle Coney, Peter Hughes and Sean Cavanagh make way.
1 - Michael O'Neill - Cluain Eo
2 - Aidan McCrory - Aireagal Chiaráin
3 - Ronan McNamee - Achadh Uí Aráin
4 - Cathal McCarron - An Droim Mhór
5 - Rory Brennan - Trí Leac
6 - Dwayne Quinn - Cluain Eo
7 - Peter Harte - Aireagal Chiaráin
8 - Cathal McShane - E R Uí Néill
9 - Padraig McNulty - Dún Geanainn
10 - Mark Donnelly - An Charraig Mhór
11 - Darren McCurry - Éadan na dTorc
12 - Plunkett Kane - Oileán a'Ghuail
13 - Patrick Quinn - Dún Geanainn
14 - Connor McAliskey - Cluain Eo
15 - Shea McGuigan - Ard Bó