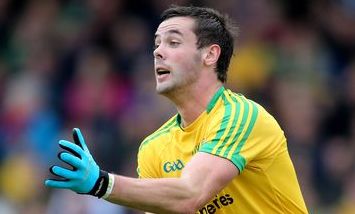 This Sunday Donegal play Queens in Ballybofey in their second game in the Dr Mc Kenna Cup.
Manager Rory Gallagher looks set to make six changes to the side which started against Derry in last weekends defeat in Owenbeg.
Paddy Mc Grath, Declan Walsh, Frank Mc Glynn, Christy Toye, Ordhrán MacNiallias and Daniel Mc Laughlin have been named among the first 15.
Newcomers Conor Parke, Ciaran Mc Ginley and Eoin Mc Hugh have also been named while Michael Boyle, Eamon Doherty, Martin Mc Elhinney, Corey Gallagher and Hugh Mc Fadden look to be getting the nod again to start.
With the team named early there could be one or two changes come Sunday.
Oisin Kelly and Declan Bonner will have full LIVE coverage from Ballybofey on Sunday in association with Evolve Menswear.
The Donegal team to play Queens.
1 Michael Boyle An Tearmann
2 Conor Parke Naomh Adhamhnáin
3 Éamonn Doherty Naomh Adhamhnáin
4 Paddy McGrath Ard an Ratha
5 Ciarán McGinley Cill Chartha
6 Declan Walsh Málainn
7 Frank McGlynn Ghleann Fhinne
8 Martin McElhinney Naomh Mícheál
9 Christy Toye Naomh Mícheál
10 Corey Gallagher An Clochán Liath
11 Odhrán Mac Niallais Gaoth Dobhair
12 Eoin McHugh Cill Chartha
13 Daniel McLaughlin Naomh Mícheál
14 Hugh McFadden Na Cealla Beaga
15 Martin O'Reilly Seán MacCumhaill
16 Mark Anthony McGinley Naomh Mícheál
17 Joe Gibbons Gleann Súilí
18 Sean Hensey Naomh Adhmhnáin
19 Éamonn Ward Gleann Súilí
20 Eunan Doherty Naomh Conaill
21 Ciaran McCaughey Realt na Mara BunDobhrain
22 Gary McFadden Gleann Súilí
23 Dermot Molloy Naomh Conaill
24 Ryan Melley Ard an Ratha
25 Malachy McDermott Bun an Phobail
26 Willie Gillespie Naomh Cholmcille