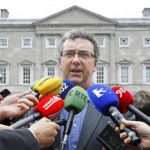 Donegal South West Deputy Thomas Pringle says he will meet next week with fellow Independent Deputies Michael FitzMaurice and Shane Ross, who are trying to form a national alliance of independents.
It's thought that informal groupings founded by each Deputy already have around 12 candidates ready to run in the next election - including the likes of Finian McGrath, Stephen Donnelly and Denis Naughten.
The group will run as independent candidates with a number of shared policies - and hopes to have at least one candidate in each of the 40 Constituencies.
Deputy Pringle told Highland Radio News he is already involved in an alliance of independents, but will explore all options...............