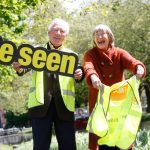 Pedestrians are being urged to make it a new year's resolution to wear a high vis jacket when they are out walking.
195 people were killed on the country's roads in 2014.
It was the second year in a row that saw an increase in road deaths.
42 pedestrians have been killed in road accidents since the start of the year.
Road Safety Officer Noel Gibbons says drivers should also carry a hi-vis jacket in their cars: