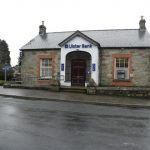 Senior management at UIster Bank say they will not reverse the decision to close the branch at Gortin, betwen Omagh and Strabane.
The branch is one of a number on both sides of the border which is slated for closure as part of the bank's latest cost cutting plan.
Earlier today, a Sinn Feín and SDLP delegation led by West Tyrone MP Pat Doherty MP met with senior representatives from Ulster Bank regarding the proposed closure.
Speaking after what he described as a very robust and frank engagement, Mr Doherty said despite petitions and a strong local lobby, management said the decision is final.........