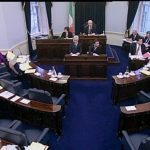 Debate on the government's new laws on water charges will be cut short tomorrow night - to guarantee it's passed before Christmas.
A so-called "guillotine" motion will be tabled tomorrow night to make sure the Water Services Bill is passed.
It means TDs might not have time to vote on all the amendments tabled by opposition TDs.
It also comes a week after the Taoiseach promised that NO guillotine would be used on the Bill.
It can then go to the Seanad on Thursday, with arrangements being made for both houses to sit next week to pass the bill before Christmas.
However, Donegal Senator Brian O'Domhnaill says he believes the Seanad may reject the bill. He rejects ministerial claims this week that rejecting the current bill would mean higher charges coming into effect in January.........