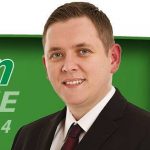 Hundreds of people from Co Donegal are travelling to Dublin today for a national demonstration against water charges.
Over 15 buses left the County at around 6:30am this morning, and they will join thousands of people outside Leinster House this afternoon.
Gardai have said "plans are being put into place" to deal with events today, but the extent of potential diversions and road closures will depend on the number of people taking part.
Right 2 Water PRO, Cllr Gary Doherty, says there is a huge contigent travelling from the county to Dublin this morning............