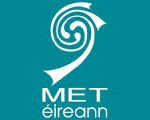 We're in for a couple of days of stormy weather, with high seas and a risk of coastal flooding.
Met Eireann has an orange alert in place for Donegal, Galway, Leitrim, Mayo, Sligo and Clare until tomorrow morning
While there's a yellow warning for Munster, Leinster, Cavan and Roscommon.
In the North West, gardai are urging motorists to be on the look out for debris as strong winds batter the region. In Derry, the Foyle Bridge is open with speed restrictions in place.
Forecaster Eoin Sherlock says when this poor weather system moves on, there's more to follow............