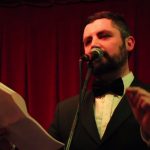 Hundreds of people from Donegal are in Dublin today for today's national demonstration against water charges.
Over 15 buses left the county this morning, with more travelling independently.
Right 2 Water PRO, Cllr Gary Doherty, says there is a huge contigent travelling from Donegal in Dublin today, and that reflects the level of protest and involvement there has been in the county.
Among those in Dublin from Donegal today is artist and poet Andrew Galvin, who performs under the name 'Maximum Homosapien'.
Two weeks ago, the Killygordon native wrote a poem for The Revelery, a monthly event in Letterkenny. The next day, he was asked to perform it at a demonstration in Market Square, and today, he's been asked to perform it in Dublin.
The piece, 'On December 10th, Ireland will Rise' has been seen by almost 100,000 people on YouTube.
Speaking from the bus as he travelled to Dublin, Andrew Galvin told Highland Radio News he's surprised at the extent to which interest in the piece has grown.........