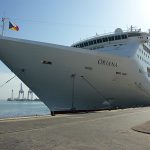 More cruise ships, carrying thousands of passengers are set to visit Co Donegal next year.
The ships, which are part of the P&O/Carnival line, will dock in Killybegs in what is seen as a huge boost for tourism in the area.
The MV "Adonia" carrying 800 passengers is due in port on June 17 next and will return for a second visit on July 21. A second P&O Cruise vessel, the MV "Oriana", with almost 1,900 passengers on board is due to berth on June 26.
The P&O Cruises confirmations means that already, with a total of eight vessel visits confirmed for 2015, the number of passengers visiting Killybegs next year is greater than in the 2014 season.
Local Cllr Niamh Kennedy says it is great for the local area: