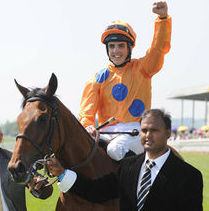 Martin Harley will ride as a freelance next season after his role as stable jockey to Marco Botti ended.
While Botti has pledged to continue using the Donegal Jockey, who left a similar role with Mick Channon to join the Italian, there will be no official connection.
Harley recovered from a serious injury early in the year to ride three Group-race winners for Botti, with the highlight being Tac De Boistron's repeat win in the Prix Royal-Oak.
Botti said on his website - 'We will continue to use Martin as our first call for the stable.
'However, we feel it will allow us both more freedom. The agreement is amicable and we are very much looking forward to the 2015 season.
'We have a good working relationship and I don't see things changing much going forward.'