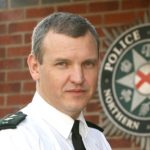 Police investigating two robberies in rural Tyrone say there is no evidence that the two are linked, but all lines of investigation are open.
The Area Commander for Strabane, Chief Inspector Andy Lemon, says in the case of a robbery on a farm
house in Clady on Monday of last week, the car involved is believed to have come from Donegal, while the car in the case of a man robbed near Dunamanagh on Sunday night came from Derry.
Chief Inspector Lemon is appealing for information in both instances, and says people in rural areas should be vigilant and check on their elderly neighbours............