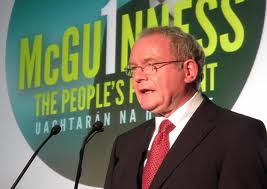 Martin McGuinness has said it was "absolutely appalling" to hear Gregory Campbell's remarks about the Irish language at the DUP conference.
Gregory Campbell told DUP members at the weekend the party would treat Sinn Féin's "entire wish list" as no more than toilet paper.
He also made reference to the 'curry my yoghurt' row from earlier this month.
The Deputy First Minister said he was "very disappointed" that Mr Campbell had not been reprimanded by the DUP leadership...