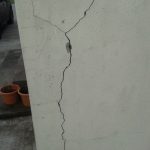 Donegal County Council is to write to the minister for the environment, community and local government calling for a team of experts to visit Donegal to access the problem of crumbling breeze blocks.
It's estimated that over 2000 homes in north Donegal could be affected by the defective blocks.
They cause cracking in external and internal walls and can lead to extensive structural problems.
Councillor Liam Blaney says those whose homes are effected should also be exempt from the Local Property Tax, as they are already facing a very serious financial situation............
A similar motion was passed from councillor Albert Doherty......