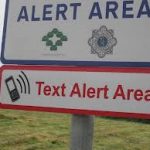 A community text alert system in Glenties has been hailed a huge success since it was launched in March.
Members of the community came together eight months ago to set up a Text Alert scheme.
Since then, 15 community text alerts have been issued to 279 people, all of whom send on the same text to their friends and relatives, as well as to the gardai.
Thanks to the system three men were arrested a fortnight ago after a spate of burglaries in the area.
Brian Carr, who helped launch the system, says more and more areas are now using a similar system: