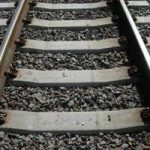 The rail lobby group Into The West is calling for part of the administration of Northern Ireland Railways to be moved to Derry.
Spokesperson Eamon Mc Cann says until the section from Derry to Coleraine is upgraded to two lines, the potential of the Derry Belfast route will not be realised.
This week, it emerged that Translink significantly underestimated how much the promised upgrade of the line would cost. leading Into The West to call for a new focus on the issue.
Eamon Mc Cann says as long as decisions are coming from Translink HQ in Belfast, there won't be a proper focus on the issue............