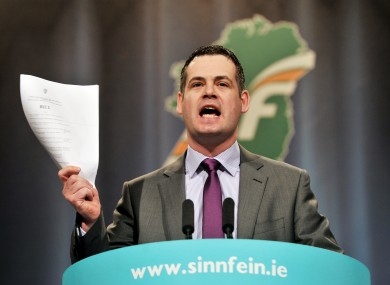 Donegal Deputy Pearse Doherty is today claiming that he has been very clear regarding his stance on water charges.
The Sinn Fein Finance Spokesperson has said that he made clear in the Dail two weeks ago that he will NOT be paying water charges.
Three weeks ago he said he WOULD be paying at a press conference Sinn Fein held before the Dublin and Rosscommon by-elections.
Donegal Deputy Thomas Pringle and Cllr Micheal Cholm Mac Giolla Easpuig had called on Deputy Doherty to come out and make his stance clear.
But speaking today, the Sinn Fein Deputy says he will not be paying:
Meanwhile, Deputy Thomas Pringle says Deputy Doherty and a number of other senior Sinn Fein members have not been clear.
But Deputy Pringle says he does welcome Deputy Dohertys change of stance: