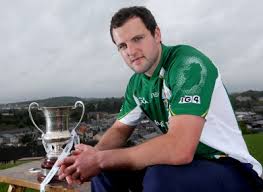 Donegal's Michael Murphy will once again Captain the Ireland international rules squad for their trip to Australia.
Manager Paul Earley who led the team to success last time out takes his side to Perth for the one off test on November 22nd.
Australia suffered a large defeat in the last series but this time have picked a much stronger squad.
There have been two Donegal players named in the squad, along with Captain Michael Murphy, Neil McGee will also travel to Perth.
Three Tyrone players have been named on the Ireland International Rules team. Sean Cavanagh, Niall Morgan and Mattie Donnelly are part of the 25 man outfit.
Chrissy McKaigue of Derry is also in the squad, in total there are nine Ulster players in the squad.
Speaking today, Michael Murphy said it is a busy time for him with his new business, playing for Glenswilly and the International Rules match to look forward to:
Chrissy McKaigue
Chrissy McKaigue