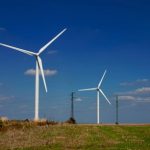 Environment Minister Alan Kelly has issued a directive overturning a decision by Donegal County Council to impose new conditions on wind-farm developments.
At the end of June, members voted to vary the County Development Plan in favour of restricting windfarms.
They voted 18-11, to create a set back distance ten times the tip height of the turbines from residential properties and other population centres. Measures to protect the pearl mussel were also included in the development plan.
Another consultation on the minister's observations took place in August, and he has now issued a detailed directive overturning the Councils decision.
The Glenties Windfarm Information Group will meet in the coming days to assess the directive and consider whether or not a court challenge would be viable.
Spokesperson Ernan O'Donnell says it appears Minister Kelly is more interested in pursuing national guidelines than in respecting the wishes of the people of Donegal............