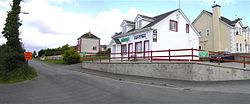 Three Derry men have been remanded in custody after they appeared in court in Letterkenny this morning charged in connection with a post office raid which took place over the weekend.
A sum of money was stolen from the post office in Manorcunningham on Saturday morning, when three men, armed with knifes and sledge hammers, threatened staff.
They fled the scene in a van - which was later stopped by Gardaí close to Killea.
Gardai have confirmed they had been alerted by PSNI that a Royal Mail postal van had been hijacked by three men in Derry at approximately 9.50am that morning, and driven in the direction of the Donegal border.
Inspector Pat O'Donnell spoke on todays Shaun Doherty Show: