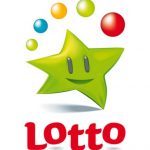 Colleagues of a young Donegal woman have dubbed her their 'lucky 13' after a big lotto win this week.
21 year old Maria Doherty started a new call centre job at Forward Emphasis in Malin on Monday, and joined the office lottery syndicate on Wednesday.
That night their numbers came up, along with a jackpot worth nearly 5 million euro.
Maria was the thirteenth person to join the group, and each person's taking home 374 thousand euro.
She says she can't believe her luck............