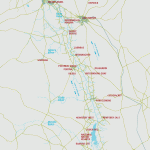 It's been claimed this week that a new focus on the development of the River Bann as a major centre for recreation and tourism could bring benefits right across Northern Ireland, and also into Donegal.
East Derry MLA John Dallat says this river offers unlimited potential at every stage of its 30-mile journey to the sea for job creation in one of the few sectors of employment that has been expanding in recent years.
He argues continuing political and financial instability is postponing the day when the River Bann can emulate the River Shannon and many other rivers of Ireland.
John Dallat says the potential is huge............