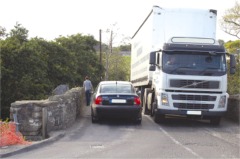 The Cockhill Bridge Action Group are calling on Donegal County Council to explain why money raised for a new footbridge hasn't been used.
The council levied developers of a new housing estate near Cockhill Bridge which was meant to pay for a new footbridge. But no footbridge has ever been built.
The action group are to hold a protest at the bridge on Friday September 12th at 1pm.
Spokesperson for the group, John O'Keefe says they cant understand why the footbridge was never built, when the funding was there: