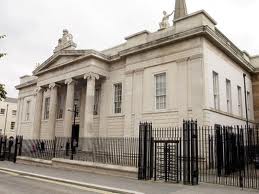 A Derry man has entered guilty pleas in relation to a series of charges involving possessing guns, explosives and gas.
30 year old Gary McPhillips of 34, Hawkin Street pleaded guilty to second limb possession of weapons, ammunition and explosives and also possessing class a and class b controlled drugs with intent to supply on December 20 2012.
The weapons and explosives included grenades, a home made machine gin with suppressor, a handgun with a suppressor, substantial ammunition, a Taser and CS gas.
The drugs were valued at £20,000.
All of the items were found in a flat or in the roof space above it that was occupied by McPhillips.
Second limb possession means that the prosecution accepted that McPhillips was 'warehousing' the items for someone else.
The court was told that McPhillips had previous convictions for drug offences including one in Belguim.
A pre-sentence report was requested and McPhillips was remanded in custody.
The case will be mentioned on Friday when a date will be fixed for sentencing.
At a previous bail application a police officer told the court that the grenades were from the same batch used by Dale Cregan in Manchester to kill two police officers.