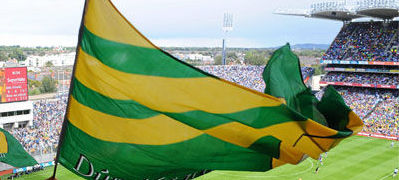 Still no team news from the Donegal and Dublin camps involved in Sunday's All Ireland Senior and Minor Semi Finals at Croke Park.
The interest in the game has been huge and that is reflected in a first 80,000+ game at Croke Park this championship.
Donegal Manager Jim Mc Guinness says he knows the challenge that lies ahead will be the toughest of the year, but his players are looking forward to it.....
By all accounts there are no injury concerns in the senior Donegal side but the minors do have a serious doubt in Eoin Ban Gallagher.
The Killybegs lad has a hamstring injury.
The county minors have been tagged as one of the favourites for the AllIreland since the championship started.
Manager Declan Bonner says the backing of the supporters has been helping his players along......