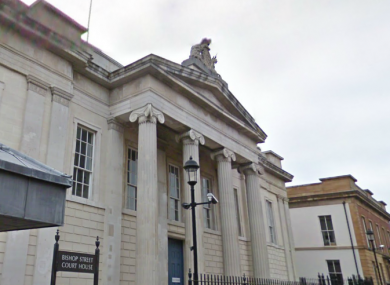 A 41-year-old Derry man charged with carrying out a series of IRA gun and mortar bomb attacks in the city for over six years before the 1994 ceasefire is to be sent for trial.
Christopher Paul O'Kane, whose address was given as care of Maghaberry Prison, faces 18 charges and will appear before Belfast Crown Court next month.
Yesterday District Judge Alan White ruled that the defendant had a prima facie case to answer on all charges.
Judge White's ruling came following a two-day preliminary inquiry hearing in Derry's Bishop Street Courthouse.
Among the charges against Christopher Paul O'Kane are that he assisted offenders in the murder of RUC Constable Michael Ferguson, who was shot dead by the IRA in Shipquay Street in the centre of Derry on 23 January 1993.
He is also charged with placing a bomb on the windowsill of the home of RUC Assistant Chief Constable Maurice Johnston at Dunwood Park in the Waterside area of the city on 3 February 1994.
The defendant is further charged with attempting to murder British soldiers and RUC officers and with attempting to murder a female member of the civilian staff at the Strand Road Police Headquarters.
He's additionally charged with firing and possessing Mark 16 horizontal mortar bombs, with placing a bomb on a railway line with intent to murder soldiers, with collecting information about cars belonging to police officers, directing acts of terrorism and with belonging to the Provisional IRA.