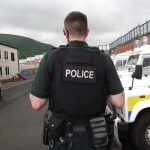 A security alert near the Derry/Donegal border has ended.
Yesterday, police sealed off an area of the road near the Branch roundabout on the Buncrana Road.
The PSNI say that at around 1230pm they received a report that a lorry had been hijacked in the Galliagh area.
Two masked men approached the driver as he was making a delivery at Ederowen Park, and they loaded an object onto the back of the lorry, and ordered the driver to take the vehicle to Strand Road Police Station.
But the lorry driver abandoned the vehicle on the Buncrana Road.
Staff were evacuated from St Columb's College and people were also been moved from business units in the Springtown Industrial Estate.
The alert ended at around 6.30 last night when the alert was declared a hoax.