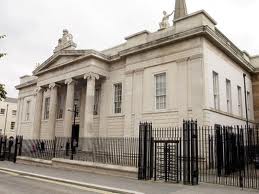 A pensioner suffering from prostrate cancer has been refused bail at Derry Magistrate's Court.
69 year old William Duncan of 35, Moore Street in Derry is accused of possessing drugs with intent to supply, and other drug related charges that are said to have occurred on February 20th.
The charges relate to the finding of £150,000 worth of drugs at an address in Derry.
At a bail application last week the court was told that Duncan was receiving treatment for prostrate cancer.
Police objected to bail on the grounds that he had a partner in Sierra Leone, and there were fears he could flee the jurisdiction. They also objected on the grounds that Duncan had a previous conviction for drug offences in France.
The application was adjourned for more information relating to the defendant's condition.
At last evening's hearing, a letter from a consultant was passed to District Judge Barney McElholm.
A prosecuting solicitor said it was accepted there were health issues but the case involved a 'substantial amount of drugs.
The judge said that the letter made no difference as there was no indication that Duncan needed specialist treatment. He added that Duncan did pose a flight risk and refused bail.
Duncan will appear again on September 4.