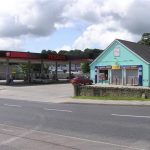 A Muff service station owner is offering a reward after his premises was robbed yesterday evening.
A forecourt attendent was left badly shaken following the incident, during which he was threatened with a knife and robbed of £1000.
The Derry Journal is reporting this evening owner of the Texaco Service Station Colm McKenna, has now offered a reward of £1000 for any information about the incident which took place yesterday at 5.25. It's reported that the suspect had allegedly been involved in an earlier incident in nearby Quigley's Point.
He's believed to have been using a white transit van, which fled across the border towards Shantallow, and was later found abandoned in Carnhill.
Local Councillor Jack Murray has been at the filling station this evening.........