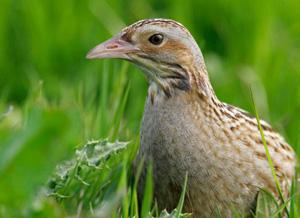 Donegal recorded the largest number of corncrakes in Ireland in 2014.
Overall the State has recorded a massive surge in the number of the birds for the second year running.
The Department of Arts and Heritage confirmed that there were 230 calling corncrake males recorded in the country this Summer - a 24% increase on the 185 males recorded last year.
Out of the 230 corncrakes in Ireland the largest concentration was in Donegal, where 156 calling males were counted with 108 of those islands off the countys coast.
The Donegal island with the largest number of corncrakes is Inisbofin with 42 and this was followed by 15 on Tory Island and 14 on both Gola and Inishmeane Islands.
The birds return to Ireland every summer before migrating south to Sub-Saharan Africa in the winter.
Between last year and 2012, the State spent €1.2m on various conservation programme measures for the bird.
The largest proportion of the cash goes to farmers in population strongholds for the Corncrake in Connacht and Donegal - last year, farmers received €355,173 for corncrake management and this compare to payments of €545,000 to farmers in 2012.