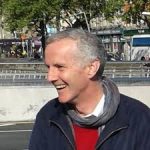 A former Junior Minister for Planning has said that the Emergency Department of Letterkenny General Hospital should not have been allowed to be located where it is.
The carpark of the A & E Department was flooded on Tuesday night after 40 centimetres of rain fell in 40 minutes.
It was the second time the hospital flooded in thirteen months, although considerably less damage was done during this weeks flood.
Dublin Cllr Ciaran Cuffe says the granting of planning permission for the new unit was conditional on a flood report, which he says was never submitted: