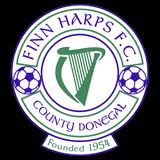 A game Harps could have won - a match they could so easily have lost.
In the end - the draw was probably the fairest result.
In fairness to Ollie Horgan - he accepted that his team were fortunate to get the point in the end - although you could forgive him for bemoaning Kevin mcHugh's penalty miss in the second half which would have put his team 3-1 in front.
McHugh's failure from the spot on 71 minutes turned the game on its head.
Six minutes later, Wexford were level at 2-2 after Keith Cowan's challenge on Gary Delaney resulted in a penalty for the visitors - coolly converted by Danny Furlong.
Wexford then pushed for the winner and they had a couple of great opportunities even before Furling clipped the top of the crossbar in the final minute.
There was still time for a Harps chance at the other end - Gareth Harkin winning a race for the ball with the outrushing Wexford keeper, Graham Doyle, only for the ball to drift wide of the post.
Harkin was one of the stand-out players on a night when Harps struggled in the first half but were so much better after the break.
It had all started to so well for Horgan's side. They were in front after only 90 seconds. Josh Mailey played a neat one-two with Harkin outside the Wexford area and Mailey then produced a wonderful finish to beat Doyle.
But Harps were unable to build on that perfect start and Wexford were back level on 15 minutes when Ben Ryan fired them level from 25 yards.
The visitors were the better team in the first half and were unfortunate not to be in front at the break.
But Harps regrouped and Harkin was denied by a smart save from Doyle. The Harps man was involved again on 57 minutes when his through-ball released Kevin McHugh who tucked home his second of the season.
Then came the penalty miss - McHugh firing wide from the spot on 71 minutes - although Wexford did look to have a case that the handball which led to the penalty was just outside the area.
Had McHugh scored, it was game over - but 2-1 down, Wexford knew they were still in this game - and their equaliser duly arrived when Furlong beat Conor Winn into his bottom corner with the game's second penalty, on 76 minutes.
Aside from those late chances at either end, there was also another big moment when Caoimhinn Bonner was red carded for man-handling a Wexford player on the ground when tempers became a little frayed following a challenge by Damien McNulty.
It was a blemish on an otherwise entertaining encounter in which both teams did their best to serve up an entertaining spectacle
Final score
Finn Harps 2, Wexford Youths 2.
Afterwards Finn Harps manager Ollie Horgan gave his reaction to Diarmuid Doherty