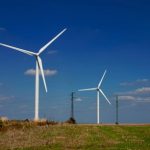 The Glenties Windfarm Information Group is seeking a meeting with the new Minister for Environment, Alan Kelly.
It emerged last week that Minister Kelly may overturn a decision by Donegal County Council at the end of last month to impose setback distances on windfarm developments.
At the end of June, members voted to vary the County Development Plan to impose the restrictions, a decision which Minister Kelly has challenged.
Spokesperson for GWIG, Peter Crossan says Alan Kelly owes the people of Donegal an explantion: