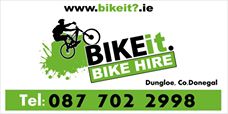 The owners of a bike hire company in Donegal have claimed that they are being put out of business by vandals.
Bike It, which is based in Dungloe, was set up last year to give tourists a chance to see the area on a bicycle.
But the company claims there has been a "sustained campaign" to close them down.
Owner Michael Connolly says a number of expensive advertising signs have been pulled down and broken up while thousands of leaflets advertising the business have also gone missing.....